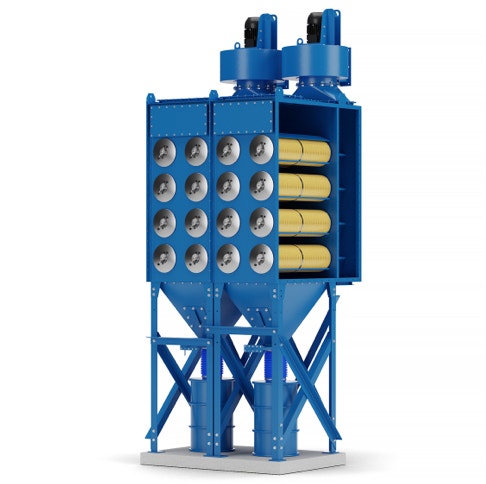 Cartridge Dust Collectors
USAF cartridge dust collectors are industrial grade heavy duty dust collection systems. Not for your home hobby or residential shop, these units are build to handle commercial applications for business to business operations for long term extended use.
Cartridge Dust Collectors
CleanFlo cartridge dust collectors are modular, compact industrial air filtration systems designed to capture fine dust particulate. They are ideally suited for applications with small to moderate dust load, fine dust particulate (<0.5 micron dust size), height and space restrictions, and airflow temperatures below 245 degrees.
Common Cartridge Dust Collector Applications
Cartridge dust collectors are commonly used in various industries and applications, including:
Chemical Processing
Blast cleaning booths
Paint Booths
Grinding
The USAF CleanFlo cartridge dust collectors offer a range of features and benefits to enhance efficiency, safety, and durability:
Bulk powder processing
Laser & plasma cutting
Chemical processing
Blast cleaning booths
Welding
Paint booths
Grinding
Good Questions to Ask
To help you engineer your system, here is a list of frequently asked questions we'll need answered as we start a project together.

You can also check out our case studies to see some of our past projects and applications and call us today to learn how we can help you.
How much CFM will be needed for the Cartridge Dust Collector?
What type of material will you be collecting?
How much dust do you usually dispose of in a day?
Custom Cartridge Dust Collectors Tailored to Your Needs
When it comes to custom requirements, our dedicated engineering team is here to design and fabricate your unique cartridge dust collection project. We understand that every facility is different, and we take pride in delivering tailored solutions that perfectly fit your specific needs.
Unlike other manufacturers who patent their items and limit your options, we offer a customer-focused approach. We provide cost-effective solutions for your initial project and ensure affordability when it's time to replace filter cartridges or components in the future. Our goal is to provide long-term value and support to our customers throughout their dust collection projects
Trust us to create a custom solution that precisely meets your requirements and provides efficient, reliable performance. Get in touch with us today to discuss your custom cartridge dust collection project and discover how we can bring your vision to life.