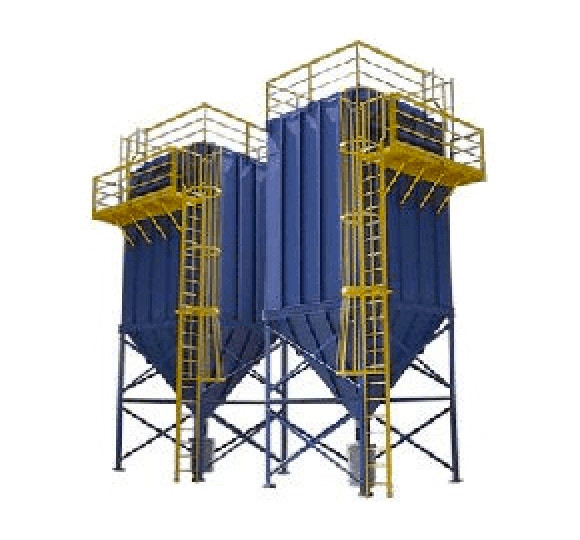 Baghouses
Pulse Jet Baghouse Features:
Industrial baghouses safely collect and remove dust created during industrial product manufacturing or processing. If you're looking for an air pollution control solution for your facility, a pulse jet baghouse may be a good option.
Pulse jet baghouse dust collectors use on-demand cleaning technology to continuously clean the filters while the system is running. This means that you don't have to worry about shutting down your operation to manually clean the filters.
There are a variety of fabric filter bags available in a variety of media and treatments.
Pulse-jet baghouse dust collectors are ideal for high dust load applications with air volumes of 1,000 CFM or greater.
They can also accommodate high airflow temperatures up to 500 degrees.
Another benefit of pulse jet baghouse dust collectors is that they have lower maintenance and energy costs over time than traditional shaker style baghouses. This means that you can save money in the long run by choosing this type of system.
Your air filtration needs can be complex and varied, and finding the right solution can be a challenge. To help, our engineers partner with you to custom design and fabricate a pulse jet baghouse to meet your unique needs and challenges.
We know that industrial applications like yours can be varied and demanding, so our baghouse dust collectors are designed to accommodate a broad range of applications including woodworking, mining, cement, metalworking, steel, food, pharmaceuticals, and manufacturing, among others.
Compliance with air quality and safety regulations is essential for the smooth functioning of your industrial plant. So we engineer our baghouse dust collection systems to not just meet but exceed air quality regulations for optimal plant hygiene and safety.
12 gauge hot rolled steel housing, reinforced to withstand + or - 20" SPWG
Structure designed to withstand 100 MPH winds + Zone 3 seismic loads
Pulse cleaning system with solid state timer pre-wired in NEMA 4x enclosure
60° hopper with square discharge, flanged and pre-drilled for auxiliary equipment
Compressed air manifold mounted with pipe couplings on both ends for easy connection of air supply
Hopper discharge clearance of 48″, sized for slide gate and 55 gallon drum adapter or airlock
Flanged inlet and pre-drilled flanged outlet
Removable 20″ x 20″ hopper maintenance access panel
One full set of filter bags and wire cages
Zinc oxide primer on the exterior, and an exterior finish of industrial enamel
Preinstalled pressure module for on-demand pulse cleaning capabilities
Material handlingMetals fabrication: grinding, sawing, sanding, polishing
Mixing and blending options
Glass plants
Universities
Powder processing
Primary metals, including steel-making
Papermaking
Ceramics manufacturing
Mining
Foundries
Battery plants
Good Questions to Ask
To help you engineer a new system, here is a list of frequently asked questions we may ask you about your project. Check out our case studies to see some of our past projects and applications and call us today to learn how we can help you.
How much CFM will be needed for the Baghouse Dust Collector?
What type of material will you be collecting?
How much dust do you usually dispose of in a day?
Baghouse Filters
Are you looking to improve the efficiency of your baghouse and explore filter media options that could save you time and maintenance expense?
U.S. Air Filtration manufactures and supplies custom and in stock filter bags for any type of baghouse dust collector. Our filter bags are available in many top and bottom configurations and a variety of filter media options to handle the dust load and dust properties of your work environment.
With multiple options available and a dedicated USAF account manager, you'll find the right filter bags that will meet your needs and help you maintain a clean and safe work environment.
If you're in need of baghouse filter bags, contact us today to learn more about your options.