Summary: Small dust collectors for applications up to 1,000 CFM airflow cost between $100 up to $5,000 USD.  Pre-fab dust collection systems such as a bin vent or cartridge type collector cost between $10,000 and $80,000 USD and accommodate airflow volumes between 2,000 and 10,000 CFM. Custom baghouse dust collectors or multiple module bin vents or cartridge collectors range between $50,000 to $1 million USD and more.
---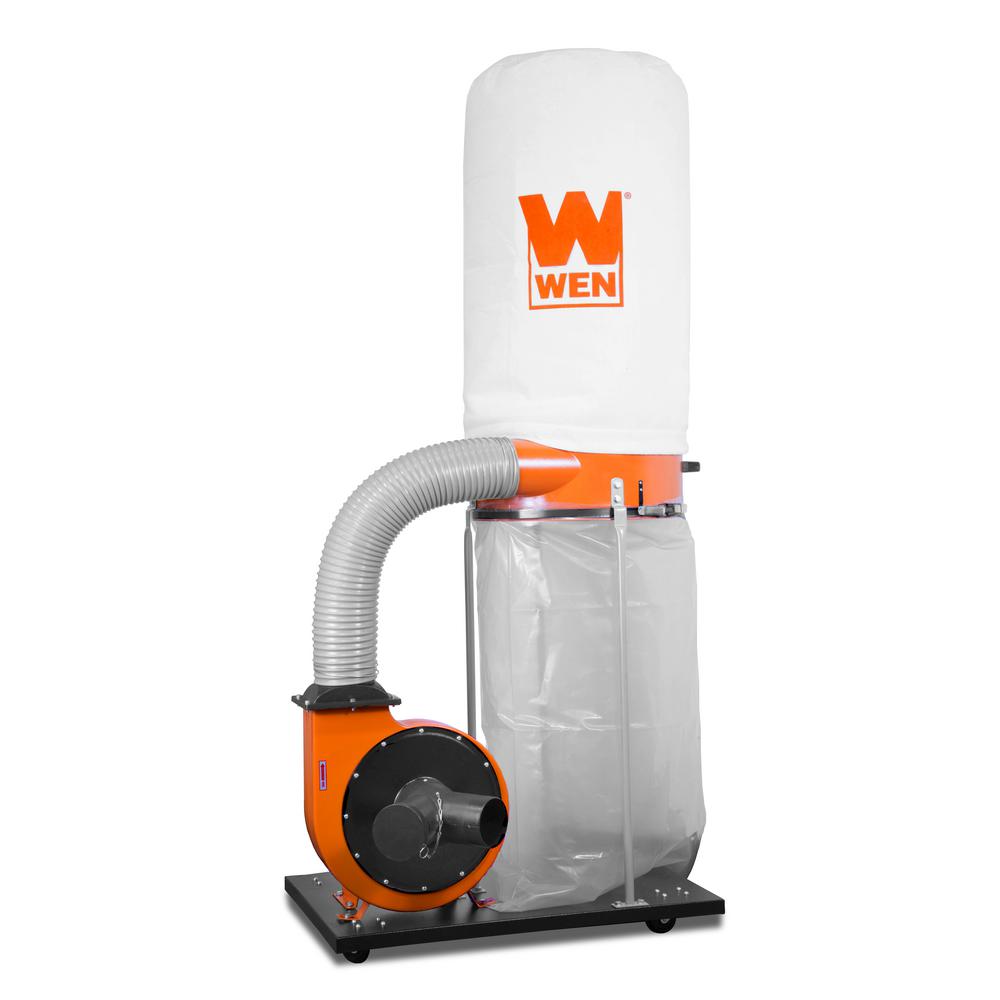 Dry dust collection systems remove airborne dust generated during manufacturing or industrial processing.  Examples may include woodworking, bulk powder processing, or food production.  Dust collectors range in size from small, portable units to extensive turnkey systems engineered for large industrial facilities.
A small dust collector able to handle up to 750 or 1,000 cubic feet per minute (CFM) of airflow can cost between $100 up to $5,000.  These small, retail units are ideal for ventilating two to three pieces of equipment such as a saw, sander or planer for a small woodworking or metalworking shop.  They require the dust collector to be set up extremely close to the collection point which reduces static pressure and in turn fan size.  Small units are readily available at an online retailer or home improvement store.
Larger, commercial applications, such as school woodshops, metalworking facilities, sandblasting, chemical processing, food processing, cement production, energy production, mining, foundries, and many others require systems to ventilate large scale processing equipment.  These dust collectors are designed to handle a much larger dust load, and meet higher airflow and/or temperature requirements.  Pre-fabricated dust collection systems such as a bin vent or cartridge type dust collector can accommodate airflow volumes between 2,000 and 10,000 cubic feet per minute (CFM).  Units can range in price between $10,000 – $80,000 depending on the size of the unit, filter media, and the fan size.
Custom turnkey, dust collection systems that require complete engineering of the system and ductwork, such as one or more pulse jet baghouses, or multiple modular bin vents and cartridge collectors can range between $50,000 – $1 million dollars or more.  The price of your dust collection system is determined by several variables outlined below.
Dust Load
Dust load is the amount or volume of dust particulate in work environment that must be moved or turned within a given time period to effectively clear the air.  Applications with higher dust loads require more filter media to remove airborne dust particulate.  This in turn will require a unit with a larger footprint which will drive up the overall cost of your dust collection system.  Applications that generate less than one or two 55 gallon drums of dust particulate per day are usually good candidates for a small cartridge collector or bin vent unit.
Type of Dust
The properties of your dust particulate play an important role in the size of your system, number of filters, type of filter media and filter treatments your application will need.  Consider the following:
Product – What you are filtering?  Does your product contain moisture or oil?  Products with moisture content greater than 25% are not suited for a dry dust collection system.  Products containing hydrocarbons, including oils, may require the application of a special treatment to your filter media for optimal filtration.
Chemistry – Does the airstream or dust contain chemicals that could damage the filter media?  Are their acids or alkalines in the airstream?  Often when certain compounds are combined during processing a chemical reaction can occur which may require addition of a specific media treatment or coating on your filter bags to protect the bags from accelerated wear.
Abrasion – How abrasive is the dust being filtered?  Consider the hardness of the material that's being filtered along with the shape of the dust.  The velocity of your airflow can also make your dust more abrasive.  Highly abrasive dust may require your dust collector housing be fabricated in stainless steel, titanium or other more costly materials able to withstand long term wear.
Particle Size – What size dust particulate are you collecting?  Depending on your emissions requirements, your application may require a special membrane.  This would apply if your particulate is very fine.
Is your dust combustible? – Combustible dust can be defined as any fine material that has the ability to catch fire and explode when mixed with the proper concentration of air.  Examples of combustible dust include wood, food products such as grain, sugar, flour, starch, metals, rubber, chemicals, pesticides, plastics, and more. To protect your plant and your employees from the risks of a serious explosion, carefully consider OSHA and NFPA guidelines and be sure to review your state and local regulations for proper identification and management of combustible dust.  Applications filtering combustible dust require the addition of either an explosion vent or brixton latches to prevent and reduce the risk of an explosion and remain in compliance with federal OSHA and NFPA regulations. There may also be need for explosion isolation valves in the dust collection line to prevent a deflagration from travelling back to process equipment if an event occurs in the dust collector.
Dust Collector Filter Media
The type of filter media you choose for your dust collection system impacts your long term maintenance costs in addition to your system startup costs.  Applications with temperatures below 250° benefit from affordable, highly efficient, and readily available polyester filter media.  Other commonly used filter medias include Aramid (Nomex©), Fiberglass, PPS, P84 and Teflon.  Additional treatments may be added to your filter media to further enhance filter efficiency and performance depending on the type of dust.  Treatments can drive up the cost of your filter bags however may also extend filter life which in turn reduces the frequency of changeouts and long term maintenance costs.
Air to Cloth Ratio
Air to cloth ratio, also known as air to media ratio, is a measurement of the amount of cubic feet per minute of air passing through one square foot of filter media.  Recommended air to cloth ratios are readily available for many applications.  Your air to cloth ratio is calculated based on the size and type of dust particulate you are filtering and is an important factor in the design and size of your dust collection system.
Generally, the lower your air-to-cloth ratio, the more effective your system is at removing dust from the work environment.  However, if your air-to-cloth ratio is too low it can place unnecessary strain on your dust collector.  Systems that operate at a higher air to cloth ratio have a smaller footprint, size, and price than dust collectors operating at a lower air to cloth ratio.
Fan Size
Your dust load, CFM requirements, and static pressure measurements will determine the fan size needed to pull airborne dust through the system and turn the air.  The location of your dust collector relative to the work environment being ventilated will also impact the size of your fan.  Systems installed close to the work environment reduce the length of the ducting and static pressure which in turn may require a smaller fan. The cost of your fan can vary quite significantly depending on each of these factors.
Temperature
Applications operating above 250° require more expensive filter media-constructed to withstand long term exposure to high temperatures.
Material Handling & Conveying
Once your dust particulate has moved through your dust collection system and lands in the hopper, you'll need to determine how to properly remove the dust so it doesn't return into the airstream and plug up your system.  Drums are the most economical option and perform very well when handling waste material with light inlet dust loading.  Light inlet dust loading applies for applications that generate one or two 55 gallon drum of dust per day at the most.  Applications with higher dust loading requirements or those filtering non-waste product, need an advanced system to convey material so that the drum doesn't overfill and cause dust to back up or return into the hopper.  This results in a processing issue that will impact dust collector performance.  In these situations you may need to upgrade from a drum to a larger dumpster and install a rotary or dump valve.  Rotary valves seal the bottom of your collector, preventing outside air from entering the system while simultaneously allowing material to be continuously emptied from the hopper.  The cost to add a rotary valve to your dust collection system can vary between $3,000 and $5,000 USD.  Larger applications may also require a vacuum pneumatic conveying system to vacuum material from the dust collector discharge to a common point.  For example, an application with five baghouses may include a common vacuum conveying system to pull discharge material from all five baghouses to one common dust collector discharge area.
Paints, Coatings or Unit Insulation
Applications with high moisture levels or chemical resistance may require an upgrade to epoxy paint applied to the interior and exterior of the dust collector to reduce long term wear of the system.  This may include facilities located near an ocean or lake or those that process very caustic chemicals.
Insulation may also be required if you're airstream temperature is high and must remain above the dew point in gas form as it enters your dust collection system to eliminate the risk of moisture and condensation . Airflows with high moisture content can cause filter bag performance issues that cause plugging of the system and inefficient filtration.  Examples of applications requiring insulation include ventilation of exhaust air coming off boilers or burners during metal forming or similar processes.
Electric Controls or Accessories
Most baghouses, cartridge collectors or bin vents come standard with an electrical control panel which powers your pulse cleaning system and your fan separately.  It is recommended you integrate your control panel into a starter panel which will simultaneously power your pulse cleaning and fan.  Starter panels can be installed at any desired location in your plant regardless of the distance to the dust collection system. Starter panels protect your system from surges or motor damage.  While the addition of a starter panel can add to the initial cost of your system, the ease and added safety it offers negate the startup costs.
Summary
Selecting and pricing out a dust collection system involves careful consideration of each of the variables outlined above.  Proper attention to these items is critical to ensuring your dust collector performs efficiently for many years to come and creates a clean, safe work environment for plant operators.  Each dust collection application is unique, and it is possible that applications with very similar product characteristics or volume requirements may require a system that is vastly different in price and size due to the number of variables to consider.  To help you engineer and select the correct system for your facility, consult with a dust collection engineering and manufacturing company with extensive experience designing systems for diverse applications.  If you have further questions unique to your application or would like to speak with an engineer, give us a call at 888-221-0312 or [email protected]. Here are some related videos and resources that may help:
Dust Collection Resources: