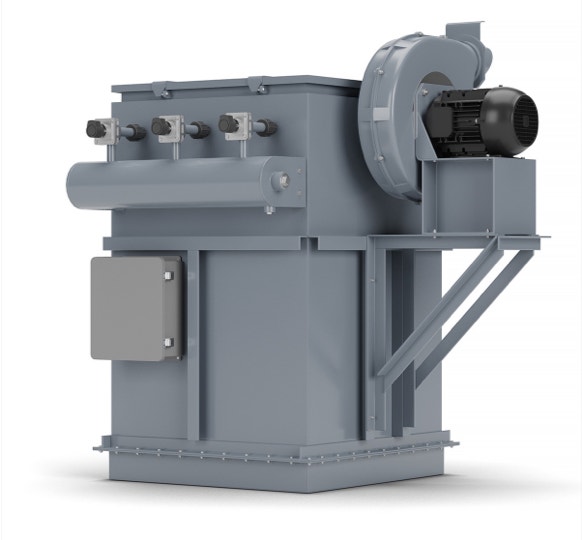 Bin Vents
Bin vents are pulse jet style industrial dust collectors designed to vent displaced air and effectively control dust particles in bins, silos, transfer points, or any other device or process requiring dust containment. At USAF, we offer high-efficiency silo bin vents that feature rugged welded housings and can handle air volumes ranging from 100 to 5,000 cubic feet per minute.
Benefits of Bin Vents
Our innovative pleated filter, bin vent design offers a range of benefits to enhance plant hygiene, safety, and operational efficiency:

Compliance with Air Quality Regulations
Meets or exceeds government air quality regulations for optimal plant hygiene and safety.

Adaptability to Height and Space Restrictions
Designed to adapt to height and space restrictions, providing flexible installation options.

Quick and Easy Filter Change Outs
Filter changeouts completed in less than 30 minutes, minimizing downtime and ensuring smooth operations.

Ductwork-Free Installation
Eliminates the need for extensive ductwork, reducing installation expenses and simplifying setup.

On-Demand Cleaning for Efficient Performance
Equipped with on-demand cleaning technology to minimize system downtime, reducing wear and tear and ensuring continuous, efficient performance.

User-Friendly Top Load Design
Top load design allows for easy filter change outs on the clean air side of the collector, enhancing convenience and maintenance efficiency.

Compatibility with Standard Pleated Filters
Flexible design accommodates most standard-sized pleated filters, making filter purchasing and maintenance hassle-free.
Bin Vent Availability
In-stock units are available in several sizes and ready to ship. To view our models, take a look at our bin vent product catalog.
Pleated Bag Bin Vent (Flanged) Drawing
Top Load Bag Bin Vent (Flanged) Drawing
Good Questions to Ask
Partner with us to engineer custom bin vents to accommodate your unique application. To get started, view the FAQs below. Contact us today at 888-221-0312 or email info@usairfiltration.com to speak with an equipment specialist about your project.
How much CFM will be needed for the Bin Vent Dust Collector?
What type of material will you be collecting?
What is the bulk density of the material? How many lbs per minute are feeding into the silo or container?