Table of Contents


Key components to choosing the right filter bag media for your Dust Collector


How air to cloth ratio affects the performance of your filter bags


The ideal filter bag construction


Filter Bag treatments to extend bag life


Cage construction for your filter bag


Optimize dust collector performance with a maintenance plan


Industrial dust collector filter bags
are used in multiple styles of
industrial dust collection systems
that range from pulse-jet, plenum-pulse, reverse air, and shaker baghouses. Filter bags aid in collecting dust particulate which helps to improve air quality, eliminate potential
fire hazards
, and keep dust from negatively affecting the
product quality
.
Filter bags are used in industries such as woodworking, cement, chemicals, construction, mining & minerals, agriculture, metalworking and much more.
Key Components to Choosing the Right Filter Bag Media for your Dust Collector
Watch Video: Understanding Dust Properties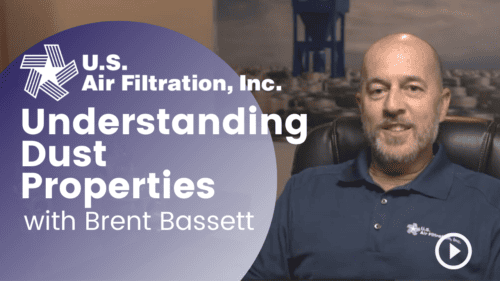 Understanding the
properties
of your dust particulate is a key component to choosing the right filter bag media. The right media allows you to get the best performance and longevity out of your dust collector filters. Consider the following properties and how they play a role in your filter media choice:
What you are filtering? Does your application contain moisture or oil? Products that contain oils and hydrocarbons may need additional filter bag treatment.
Particles
What the size of the dust you are filtering?
What is your operating temperature? What is your max temperature? If you are operating at a high temperature, you will need specific filter bag media or a special
treatment
to withstand the heat. Temperature ranges for dry dust collection can be typically sorted into the following categories:
-Ambient – 265 Deg F
-275-375 Deg F
-400-500 Deg F
Chemistry
Does your application contain dust particles that have a chemical make-up? If so, you may require a media treatment or coating that will prevent your filter bags from accelerated wear.
Abrasion/Resistance
How abrasive is your dust? Consider the hardness of the material that is being filtered along with the shape. If it is abrasive, you will need a filter bag media with the ability to resist the additional wear and tear.
Combustible Dust
Is your dust
combustible
? The most combustible types of dust are dust from wood, sugar, or fine aluminum but there is a wide range of industries that operate with combustible dust.
For help finding the right filter media for your application, try our
filter media quiz
to get your recommended filter media.
How Air to Cloth Ratio Affects the Performance of your Filter Bags
Air-to-Cloth ratio
is a measurement of the amount of air passing through one square foot of filter media. Calculating the right air-to-cloth ratio allows your dust collector system to run at peak performance, it extends filter life, minimizes operating costs, and helps you to meet
air quality
goals. When calculating air-to-cloth ratio for your dust collection system, keep in mind that generally the lower your air-to-cloth ratio, the more effective your system is at removing dust from the work environment. Increased
differential pressure
, frequent change outs, and reduced airflow due to a buildup of dust cake are just come of commonly experienced problems with a higher air-to-cloth ratio.
Watch Video: Air-to-Cloth Ratio
The Ideal Filter Bag Construction
There are a few commonly used industrial dust collector filter bag medias used with industrial dust collectors.
Polyester
,
Aramid
,
Fiberglass
,
P84
, and
PTFE
are all common options that are available at different price points and have varying characteristics such as maximum operating temperature, resistance to chemicals and acids, ability to withstand abrasion and more.
Top 3 Common Filter Bag Medias
Watch Video: Guide to Filter Media
Polyester
Polyester
is widely available at a relatively low cost. Polyester filter bag media offers great dimensional stability and has good overall qualities to resist abrasion while performing well with dry temperatures. It's used in woodworking, manufacturing, food processing and more.
Aramid
Aramid
, also known as Nomex©, is widely used in high temperature applications with a continuous operating temperature of 400 degrees Fahrenheit. Aramid filter media is frequently used in industries such as cement, foundries, and metalworking and castings.
Fiberglass
Fiberglass
filter media is a leading industry standard for applications where continuous operating temperatures of 500 degrees Fahrenheit are prevalent. It's most commonly used in industries such as chemicals, minerals, and energy pipeline and utilities.
When it comes to
filter bag construction
there are a wide variety of configurations. The simplest way to understand the top and bottom construction needed for your filter bag will be knowing the type of dust collector system you have. There are three common types of baghouses;
pulse-jet
and plenum pulse, reverse air, and shaker.
Pulse-jet
and plenum pulse baghouses are the most widely used style of dust collector. They can be configured as either top load or bottom load. If your
baghouse
is top load the most common filter bag construction is a double beaded snap band top with a disc bottom. If you have a bottom load baghouse the most common construction is a raw top with disc bottom.
Reverse air baghouses
are typically seen in large air handling applications. The most common filter bag configuration is a compression band with cap and hook for the top. For bottom configuration you will typically see either a compression band, corded, or double beaded snap band.
Shaker baghouses
are generally simple and can be seen in applications where there is no compressed air available. In shaker baghouses the filter bags are hung and tensioned from the top of the unit, and at the bottom they are attached to a tube sheet. The most common top configurations are grommet top, loop top and strap top. Bottom configurations can range from corded cuff or a double beaded snap band.
How to Measure Filter Bags
To
measure a bag
, you need to get three critical dimensions. The first dimensions that we need to know is the snap band size. This is actually the hole size in your baghouse that the bag snaps into. We also need to know the bag body diameter. Which is the diameter of the bag, at the midsection of the bag. And we need to know the overall length.
Time for a change out or need to install new filter bags? Learn how to properly install a filter bag into your dust collector's cell plate.
Filter Bag Treatments to Extend Bag Life
Applying a specific finish or
treatment
is one way you can lengthen the life of your filter bags and achieve better performance. Whether your filter bag media is constructed of synthetic or natural fabrics, treatments such as calendering (glazing), napping, singeing, or coating are available.
Learn more about PTFE and how it works, how PTFE can save you money on costly baghouse change-outs, reduce wear and tear, reduce energy costs, and more.
PTFE Membrane
One specific filter bag treatment that stands out among the rest is commonly known as Teflon or
PTFE
. It's used in many different applications but when specifically laminated to a filter bag media it can enhance the performance of both the filter bag and the dust collection system.
Calendering
This is also known as glazing and is done to increase and uniform surface life, improve stability and reduce shrinkage.
Napping
Fabrics used for collecting sticky or oily dusts are sometimes napped so they can provide better collection and an easier cleaning process.
Singeing
This removes any straggly surface fibers and results in a more uniform filter bag surface
Coating
This process helps lubricate the woven fibers, provides high-temperature durability, and various fabrics.
Cage Construction for Your Filter Bag
Industrial dust collector filter bags require internal support structures referred to as
cages
. Cages will provide the support needed for filter bags to stay open during the dust collection cycle. The construction of your cage will depend on the design of your
baghouse
; top or bottom load.
Optimize Dust Collector Performance with a Maintenance Plan
There is no disadvantage to being proactive and implementing a
maintenance plan
for your dust collection system. It helps detect any issues before they become a larger problem. Some of the benefits of a dust collection maintenance plan are long filter life, prevention of dust collection explosions, and reduced unplanned downtime throughout the year.
Watch Video: 5 Most Commonly Replaced Dust Collector Parts
Have you noticed a continuous emission of dust from your collector? It's usually indication that the problem is inside your system. Here are some of the more common causes to look out for.
Find the Right Solution for Your Application
If you would like additional help finding the right solution for your application, we can do that! You can contact one of our experienced account managers at 888-221-0312 or email info@usairfiltration.com. Already have information and just need a quote? You can also submit your specs here and
get a quote in 24 hours
!
For maintenance, troubleshooting and other resources, subscribe to our
YouTube channel
, follow us on
Twitter
, and like us on
Facebook
&
LinkedIn
.