Power Pulse Model 66-PTHH-120-6 Baghouse Dust Collector
Specifications
The PowerPulse Baghouse by U.S. Air Filtration, Inc., an excellent dust collection solution for industrial facilities. Engineered with user-friendly features and technology, it effectively captures and removes harmful particulate from the air, ensuring a safe and healthy workplace. With its durable construction and customizable configurations, it adapts to the needs of any facility. The high-header and top-load filter designs allow quick and easy maintenance, while On-Demand cleaning capable controls ensure efficient operation keeping you in compliance. Invest in a PowerPulse Baghouse, a proven winner for more than 50 years.
Specifications
Filter Media
Polyester Felt
Housing Material
Carbon Steel
Filter Installation
Top Load
Model Number
99-PTHHI-120-6
Brand
U.S. Air Filtration
Applications USAF baghouses are self contained, full automated, and can be modularized where needed. We also supply and install rotary valves, screw conveyors, sealed drums, bulk bag discharges, discharge lids, bin vents, air operated pneumatic transfer systems, access platforms, ventilation and instrumentation, and all related ducting. Baghouses are engineered for dusts that are sub micron and larger, in the following applications: Woodworking Powder processing Material handling Primary metals, including steel-making Metals fabrication: grinding, sawing, sanding, polishing Papermaking Ceramics manufacturing Mixing and blending options Mining Glass plants Universities Foundries Battery Plants
Our Guarantee

Responsive, Personal Service
When you call, you'll speak to a live human.

1 Year Warranty
We'll repair or replace your product at no cost.
Price Match
We promise to match any of our competitor's prices on replacement parts.

We'll send what you ordered
Guaranteed to match your drawings and specs.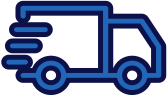 Ships Next Day
All in-stock USAF products ship within 1 business day.