USAF 13.84" Dia. x 26" L Polyester Cartridge Filter
13.84" x 26" - Spunbond Polyester Cartridge
Specifications
Cartridge filter designed to fit all 13.84" O.D. x 26" Length dust collectors with 120 ft² of 100% Spunbond Polyester media. Spunbond Polyester media is strong and more resistant to abrasion than 80/20 or Nanofiber. MERV 12 efficiency rating
Specifications
Filter Media
Spunbond Polyester
Gasket
3/8" x 3/8" x 10.75" I.D.
Inner Retainer
Expanded Metal
Outer Retainer
Woven Bands
Filter Media Area
120 ft²
Mean Air Permeability
20 CFM/ft²/min
Filter Efficiency
MERV 12
Maximum Temperature
180°F
Brand
U.S. Air Filtration
Our Guarantee

Responsive, Personal Service
When you call, you'll speak to a live human.

1 Year Warranty
We'll repair or replace your product at no cost.
Price Match
We promise to match any of our competitor's prices on replacement parts.

We'll send what you ordered
Guaranteed to match your drawings and specs.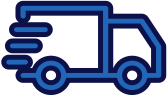 Ships Next Day
All in-stock USAF products ship within 1 business day.